A Guide to Your First RELX Vaping Device
So, you just bought your very own RELX vaping device from RELX Oceana, or at least you're thinking of buying one.


Want to know what you're working with? We're here to lay it out for you.


RELX Vaping Device.  Before you do anything, get to know what comes in the RELX Device Package. RELX vaping devices are purposefully designed to be simple and hassle-free. In the package, you will find a Single device with the colour of your choice and a micro-USB charging cable, as well as a user manual. A new RELX vaping devices is already charged and ready for use, you don't need to worry about the USB cable right now.
RELX Vaping Pod
. RELX Classic pod pack contains 3 single pods and each 
holds 2ml of e-liquid
with the same flavour, it lasts roughly 400 ~ 600 puffs depends on individual's usage, that's
 equivalent to about three packs of cigarettes.
Take the e-liquid / e-juice pod out of its packaging and insert it into the cavity of the vaping device. You'll notice it slides in smoothly, gently attaching itself to the vaping device, which means th pods and devices stay connected via a magnetic lock. No clicks, no manual lock-in here.
Once the e-liquid pod is finished, simply swap it out for a new one. RELX offers a bunch of different flavors, from classic mint to juicy mango. There's something for everyone!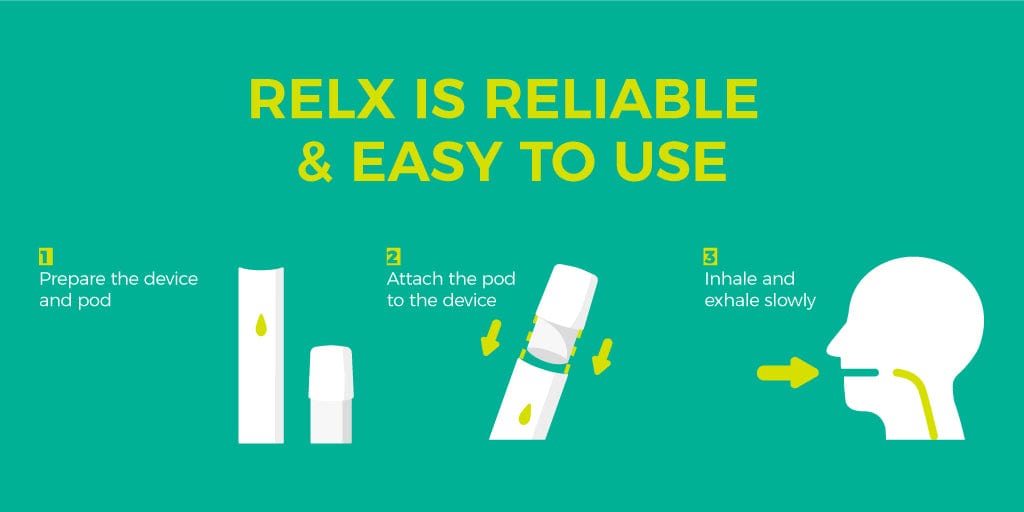 Pretty easy, right? Maintaining your RELX is just as simple.
Battery
: While the battery life depends on how heavily you use the vaping device, you can generally count on a full charge to last you through the day, with moderate to light users being able to go 2-3 days on a single charge.
Charging
: To charge your RELX, simply insert the provided micro-USB cable to the bottom of the vaping device and plug it into a mobile phone charger.
Please avoid plugging the micro-USB cable directly into a powerboard as the current may exceed 2A and is over the device battery limit.
 During charging, the indicator LED is on consistently, it turns off when the battery is fully charged. It only takes 40 minutes to fully charge your RELX vaping device, DO NOT leave it on charge for over 40 minutes and immediately disconnect power once the indicator LED is off.

Cleaning: From time to time, you can wipe down the vaping device with a tissue and some isopropyl alcohol. You can also clean the cavity of the device chassis with a Q-tip dipped in the alcohol and let dry completely before resuming use.

Storage When not in use, RELX products should be kept up right in a safe and dry place, away from children.
About Leaking
Leaking may be caused by liquid being pulled up into the air path. Some common causes:
Built up condensation blocks the pod chamber. Condensation does happen during normal use and stay on the bottom of the pod, please wipe it off regularly.

Don't bite or squeeze as you puff on the pod, your mouth should be relaxed on the mouthpiece.

Hard puffing on the mouthpiece may also causes leaking, try puff gently.

Rapid change of air pressure can cause leaking so please detach pod and device during air travel, keep the pods sealed in a container.
In general, a pod that is leaking a little can still be used, just be sure to wipe off any leaked liquid before you insert it back into the vape device.
 More information about vaping knowledge can be found at RELX Oceania.